There has been a massive increase in BFSI searches in India, search engine Google revealed in its annual 'Year in Search: Insights for Brands Report' released Thursday. This search has been driven by non-metro cities that accounted for 61 per cent of BFSI (banking, financial services and insurance) searches. Life insurance and health insurance were the top searches among services with mutual funds too gaining popularity, both in metro and non-metro cities. The report revealed that 61 per cent of all life insurance related queries came from non-metro cities, a growth of 43% YoY. In Health insurance, non-metro cities accounted for 59 per cent of related searches, a growth of 78% YoY and in mutual funds, the non-metro cities accounted for 59 per cent of all queries, growing at 61 per cent.
In terms of growth, personal loans saw the biggest jump, indicating a shift in the spending habits of non-metro residents. About 57 per cent of all personal loan queries came from these parts, which is a massive jump of 109% YoY. Data access and affordability have played an important role in this growth as more searches have come from mobile.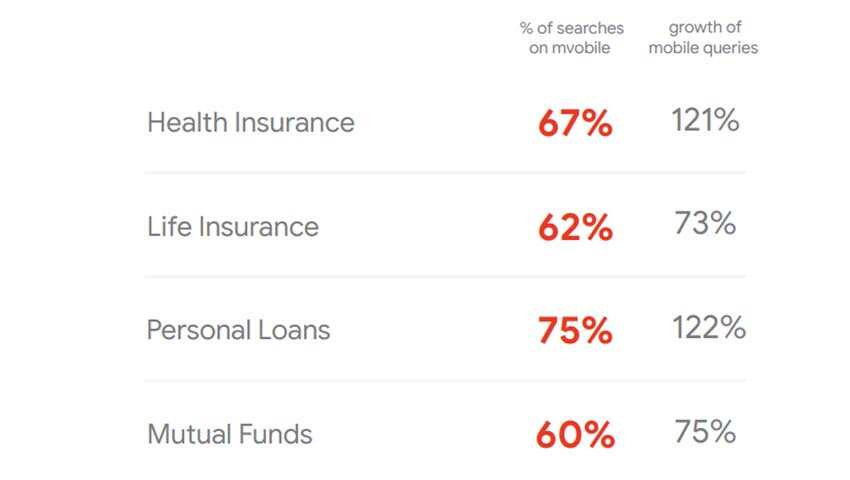 Another factor driving the growth is more businesses are using WEB AMP to make their processes more efficient and improve online acquisition on mobile. This switch has allowed brands to improve their load time. "The new wave of users from non-metros searches heavily and only on mobile. Delivering a simple and quick experience is key for engagement. We achieved over 60% improvement in load time and over 10% incremental conversion in Search ads by implementing AMP," Jagmal Singh
CTO, PaisaBazaar, said.
Businesses also making their services available on voice-activated assistants. More and more brands are now using Google Assistant to offer smoother customer experience.
While PaisaBazaar made their credit score facility available on Google Assistant, offering a convenient solution for consumers to interact and transact, State Bank of India became the first mutual fund player to launch a voice assistant to help investors find product-related information, locate branches, and check KYC status. Meanwhile, HDFC Bank became one of the first movers in the space of voice chat after it linked its chatbot EVA (Electronic Virtual Assistant) with Google Assistant to offer its services on mobile.
The report revealed that Google's Smart Bidding built on machine learning has helped customers improve efficiency in their marketing efforts on Search. It said that there has been a 71 per cent increase in leads for ICICI Prudential Life Insurance after they started using the new YouTube format: TrueView for Action.
["source=zeebiz"]